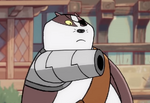 This article is a stub.
This article is a stub. Help out the Mao Mao: Heroes of Pure Heart Wiki by expanding it!
Adorabat Manor is a location within Pure Heart Valley, and the former home of Adorabat and Sonara.
Description
Adorabat Manor is a remote location on what appears to be on a cliffside overlooking Pure Heart Valley. It has a fountain with a spacious yard that overlooks the mountains. It is the home of Eugene, as well as the former home of Sonara and Adorabat. A few years after Sonara's untimely death, Adorabat ran away from home, joined the Pure Heart Valley Sheriff's Department, and began living at Sheriff Headquarters.
Episode Appearences
Gallery


Click here to view the gallery for Adorabat Manor.