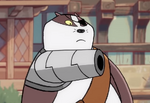 This article is a stub.
This article is a stub. Help out the Mao Mao: Heroes of Pure Heart Wiki by expanding it!
Big Thumb Pete is a Sweetypie who first appears in "Thumb War" as the antagonist. He is the current champion of the Annual Thumbwar competition
Appearance
As his name suggests, Big Thumb Pete sports an abnormally massive thumb on his right hand, which has been the source of his victories in the Thumbwar competition. Said thumb has a cross shaped scar on its face
He wears a yellow straw hat and blue suspenders, one strap of which appears to be broken.
His general appearance resembles that of a Hill Billy which is topped off by a piece of straw in his mouth.
Personality
While Big Thumb Pete is often shown to be very joyful and respectful to others, he also switches to a more intimidating expression whenever the topic has to do with competition. An example of this is when he comforts Mao Mao on his stubby opposable only to brag to him seconds later about how Mao Mao will inevitably lose to him, implying that he is very passionate about the Annual Thumb War competition and can be quite conceited. However, he is not shown to be bothered at all when Badgerclops wins first place out of bribery.
Trivia
He once accidentally (and obliviously) killed one of the competitors in a previous thumb war, leaving behind a smoldering scorch mark and a grieving widow.
Currently Big Thumb Pete is the only antagonist to have won at the end of an episode.

He is also the first Sweetypie antagonist.
Gallery
Community content is available under
CC-BY-SA
unless otherwise noted.