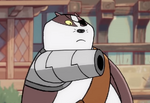 This article is a stub.
This article is a stub. Help out the Mao Mao: Heroes of Pure Heart Wiki by expanding it!
He is a character that appears in "Lonely Kid" and has only one apppearence.
Appearance
Bully Bunny has grey fur, circle shaped eye brows, and yellow and brown clothes.
Personality
He can be mean and rude. When he met Mao Mao In "Lonely Kid", he and his friends launched Mao Mao away.
Gallery
Trivia
He only has one appearence.
References