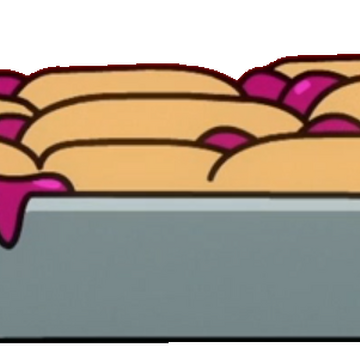 Cobbler is a dish consisting of a fruit or savory filling poured into a large baking dish and covered with a batter, biscuits, or dumplings before being baked.  It is shown to be the favorite food of Mao Mao, much to the disapproval of his family. Muffins, Farmer Bun, and Badgerclops have all been shown as capable of preparing the dish.
History
For reasons unknown, Cobbler has historically been banned by the Mao Clan, as it is forbidden by The Hero's Code, with Shin Mao stating how it is against his familial hero's code.
Trivia
Cobbler is a dessert that originated in British America colonies as a replacement for the suet pudding that the English settlers were unable to bake.

The name "cobbler" might be derived from cobeler, an archaic word that means "wooden bowl".