Obi-Wan Finale - The Loop
Play Sound
Eugene is the father of Adorabat who made his first physical appearance in "Adoradad".
Appearance
Eugene is a turquoise bat who has a ruff of pale yellow fur around his neck, large ears, and a rhombus-shaped nose. His abdomen has a yellow spade on it. He is usually seen wearing a large pair of glasses.
Personality
Eugene is a loving father who genuinely cares about Adorabat. However, ever since his wife Sonara's apparent death, he has trouble coping with such loss and has therefore become quite overbearingly overprotective by preventing Adorabat to venture and beat monsters, and overreacts a lot with streams of flowing tears. He is also rash enough to jump into conclusions, as he considered Badgerclops and Mao Mao dangerous people at first without getting to know them.
After being rescued by Adorabat, Eugene eventually learns to respect his daughter's choices and lets her grow up in her own accord.
Abilities
Molting: Like his daughter, Eugene can molt his skin as a measure to escape.
Flight: As a bat, Eugene can use his wings to fly.
Relationships
Eugene used to have a better relationship with his daughter Adorabat prior to his wife Sonara's untimely death. After Sonara's death, Eugene became overprotective and started to arrange lessons for Adorabat and even sheltering her in their mansion just to prevent the worst, but this has led to a wedge in their relationship. But after witnessing how Adorabat bravely finished off the cave dragon, Eugene is impressed and lets her be with her friends, though he later admits that he is somehow afraid of her aggressiveness.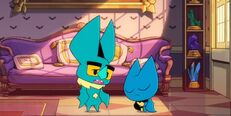 Prior to Sonara's death, Eugene loved her dearly. He admits to Adorabat that he has a tough time when it comes to overcoming the sorrow stemmed from her passing. He was impressed when Adorabat demonstrated her courage to rescue him because it reminded him of Sonara.
In the beginning, Eugene was distrustful of Mao Mao and Badgerclops when he found out they are training Adorabat through the exposure of monsters. Nonetheless, after witnessing how the sheriffs come to Adorabat's aid to help her defeat the cave dragon, he finally trusts them and subsequently entrusts Adorabat to them.
Foreign voice actors
Episode Appearances
Trivia
Before his physical debut in "Adoradad", he was briefly mentioned by Adorabat in "Head Chef".
He is allergic to his daughter's molted skin.
He tends to cough frequently when he is nervous.
Gallery