Obi-Wan Finale - The Loop
Play Sound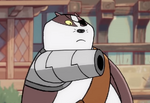 This article is a stub.
This article is a stub. Help out the Mao Mao: Heroes of Pure Heart Wiki by expanding it!
"

My fears. Push my fears. Push them from my mind, Huh? Is this the dentist's office. no, no, no, no, Go Away! Go Away! Go Away! Go Away! Go Away! Ahh!!

"
—Adorabat
"Flyaway" is the 27th episode of the first season of Mao Mao: Heroes of Pure Heart, and the 27th episode overall.
Synopsis
When Adorabat's spirit transcends her body during a meditation exercise, Mao Mao and Badgerclops have to figure out a way to return her to the real world.
Plot
The episode starts at the Dojo when Mao Mao is training hard. He tells Badgerclops to go, but he is too lazy. Adorabat was amazed by his moves, and tries to punch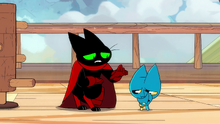 hard, but her tooth was bad. Badgerclops tells her she needs a dentist appointment. He tells Adorabat about Meditatin' Melvin, he was turned into a phantom. So, she starts to relax, she is in her mind and sees a strange Shadow. Then, Suddenly she her phantom self breaks out of her, also she flys away out of the dojo. So, the two heroes went to search for her up in the sky.
In the sky, Adorabat is still flying up and up. Until, she saw Meditatin Melvin, He knows about the tooth pain In her mouth. She tells him that she needs to go back to her body, But he warns her that it is not gonna work. He doesn't want her to go to the dentist, well, He was lonely
since forever. So he wants friends, but she gets worried about it. At the kingdom, Mao Mao successes a lot of sweetypies to bring back Adorabat. But Badgerclops doesn't welcome Penny and Benny, Then sprays water on Pinky's eyes. Mao Mao wants him to
bring everyone to save Adorabat from the sky. So, a Piñata appears behind Badgerclops, Then, Mao Mao sees a smoke bomb.
Up back in the sky, Adorabat sees her friends at the bottom. She wants to get back, But Melvin doesn't want her to go back down. Back down, Chubbum does not want to pop balloons while Badgerclops begins to attack
him. Suddenly, A Bat Monster was waking up. Melvin warns her she can't go back down and fight monsters. So, he tells her that she doesn't need to go to the dentist and She believes herself, when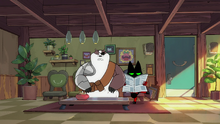 she faces her fear as she falls back down to the kingdom.
As when She goes back to her body, she starts to attack the monster, she goes around in circles, then defeats it, As when Mao Mao tells her to go to a dentist And Badgerclops asks her to hold this. Then, as she sits on the chair, Dr Cuddlestien shows up and starts to fix her tooth offscreen. Then, Mao Mao and Badgerclops sit about an hour ending the episode.
Features
Characters
Locations
Trivia
The episode's title references Panty And Stocking's song of the same name where the two fallen angels transform and use their weapons (a pair of panties and a stocking, respectively) to defeat any threat.
Gallery


Click here to view the gallery for Flyaway.
Videos
International premieres
References