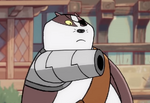 This article is a stub.
This article is a stub. Help out the Mao Mao: Heroes of Pure Heart Wiki by expanding it!
Gem Cells are pink crystals that can be used as power sources. They can be used to power the Sky Pirates' Airship, as well as Mao Mao's Aerocycle.
Gallery
Trivia
The only devices confirmed to run on gem cells are flying vehicles, which may suggest that they have some sort of magical attributes that grant flight.