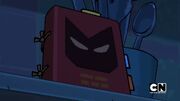 The Hero's Code is a book passed down from generations to generations in the Mao clan, which first appeared in "Sugar Berry Fever". It is used for teaching a person how to become a hero.
Trivia
This book forbids a Mao clan member from eating Cobbler.
"The Perfect Couple" revealed that this book is stored inside Mao Mao's stomach.