Honey is a female character who made her debut in the episode "Ultraclops". She is one of the magic technicians of the castle, and the apprentice of Camille.
Appearance
She is a small squirrel, and wears a yellow conical hat and a tunic that covers her feet.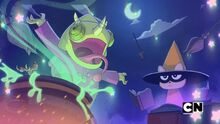 Personality
She is shown to be a little shy and does not like talking in public, only whispering to her teacher whatever she needs to say.
In spite of her bashfulness, she is actually knowledgeable, knowing more about hygiene than Camille.
Abilities
Magic: She develops and builds magic artifacts with her teacher.
Items and Equipment
Growth Amulet: A amulet that permits growth to the size of a giant, and can be used by anyone with only a press to the gem. It is shaped like a heart. It's not necessary wear the amulet to maintain the size but it's needed to return to normal size.
Trivia
Gallery
References