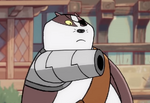 This article is a stub.
This article is a stub. Help out the Mao Mao: Heroes of Pure Heart Wiki by expanding it!
Hydra Eggs are purple eggs that come from Hydras. Each egg has two light blue yolks inside it.
History
Hydra Eggs were previously illegal inside Pure Heart Kingdom, as mentioned by Tanya Keys. However, King Snugglemagne made them legal in "Head Chef" for his television show.