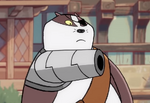 This article is a stub.
This article is a stub. Help out the Mao Mao: Heroes of Pure Heart Wiki by expanding it!
— This article contains prereleased content —
This page contains information about content officially released on the CN app and VOD ahead of its television premiere.
"Mao Mao's Nakey" is the 31st episode of the first season of Mao Mao: Heroes of Pure Heart, and the 31st episode overall.
Synopsis
When MM loses his clothes while trying to scale the Ruby Pure Heart, he has to get back to Sheriff's HQ by daybreak.
Plot
It's just a normal day when Mao Mao announces that he plans to climb up the Ruby Pure Heart Spire. Badgerclops is against this idea as the wind speed is high, but Mao Mao refuses to listen. Badgerclops tries to go home but Mao Mao intervenes by giving him a donut. Badgerclops tells him that there are more at HQ. When Badgerclops chooses to climb with him by grappling. Mao Mao gets mad and says climbing does not count as grappling. Adorabat flies to the top and then Mao Mao chooses to go alone.
Characters
Trivia
Excluding Muffins, this is the second episode where a Sweetypie's parent (in this case, Chubbum's father) is shown onscreen, with the first being "Legend of the Torbaclaun".

This is, however, the first time a family member of one of the regular characters is seen, as Silly Billy and his mother only appeared in "Legend of the Torbaclaun".

This episode was released as a tribute to Friday the 13th, as proven by this tweet from Parker Simmons.
This is the third episode where Mao Mao's name is used in the title, with the first being "I Love You Mao Mao" and the second being "Mao Mao's Bike Adventure".
Mao Mao is revealed to have more underlying daddy issues in this episode, namely because he gets attached to his clothes as part of his identity and most importantly the rare acknowledgment from his father.
Continuity
The parental issues between Shin Mao and Mao Mao which are first brought up in "Not Impressed" and "Small" has been mentioned and further unfurled in this episode.
Gallery


Click here to view the gallery for Mao Mao's Nakey.
Videos
References
Community content is available under
CC-BY-SA
unless otherwise noted.