Marion is an athletic yellow horse inhabitant of the Valley.
Appearance
She has yellow fur, although her mane and tail are slightly more pale. She has an athletic physique with prominent abdominals, and she usually wears a blue top and pants. She is all muscular all over her body.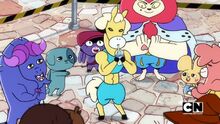 Personality
In comparison to the majority of Sweetypies, Marion is more headstrong and bold. She enjoys smoothies and flexing her muscles.
Although mostly strong, Marion can still be cowardly when dangers arise, such as when the valley is being invaded by monsters or worse, the Sky Pirates. She is also gullible, easily falling for Rufus and Reggie's scam in Outfoxed.
Abilities
Hammering: She has a wooden hammer and practices with it at night.
Episode & Game Appearances
Trivia
Marion wanted to take Rufus' hand in marriage as she states around the beginning of Outfoxed. We're not entirely sure if she actually meant this, though.
Revealed in "Mao Mao's Bike Adventure" she spent last night at the gym practicing her hammering and in the episode "Mao Mao's Nakey" she can be seen carrying a gym bag with Ketchup walking beside her.
Parker Simmons revealed that Marion has an unnamed younger brother, seen in The Perfect Adventure.[1]
Gallery
References