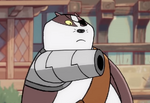 This article is a stub.
This article is a stub. Help out the Mao Mao: Heroes of Pure Heart Wiki by expanding it!
The Mega-Mech was a device created by Badgerclops for Adorabat, consisting of a high-tech peg-leg that went over her own, and an eyepiece. It was later incorporated into a larger mech operated by the Sky Pirates, before it was ultimately destroyed by Mao Mao.