Obi-Wan Finale - The Loop
Play Sound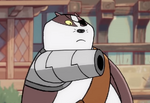 This article is a stub.
This article is a stub. Help out the Mao Mao: Heroes of Pure Heart Wiki by expanding it!
Quinton is a bird inhabitant of Pure Heart Valley. He is the faithful servant of King Snugglemagne.
Appearance
Quinton is a light blue bird with purple eyelids and drooped, semi-circle eyes. He has an orange oval beak with tiny black glasses resting on it and pink hearts under his eyes. His feet are orange and his talons black. He wears a white wig with the end tied with a dark red bow. He also wears a white ruff around his neck and a pink shirt with a dark pink heart on it.
Personality
Quinton can be viewed as a stereotypical servant who doesn't disobey King Snugglemagne's commands. He is always seen assisting the king.
Trivia
Quinton was the first royal staff member to be introduced alongside King Snugglemagne.
Gallery