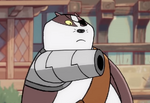 This article is a stub.
This article is a stub. Help out the Mao Mao: Heroes of Pure Heart Wiki by expanding it!
In the episode "Fright Wig", three Shadow Clones resembling Mao Mao, Badgerclops, and Adorabat were accidentally created when Mao Mao attempted to forcibly expose King Snugglemagne's greatest fear with a device invented by Camille.