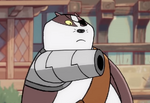 This article is a stub.
This article is a stub. Help out the Mao Mao: Heroes of Pure Heart Wiki by expanding it!
"Strange Bedfellows" is the 40th and final episode of the first season of Mao Mao: Heroes of Pure Heart, and the 40th episode overall.
Synopsis
After an insane battle, Mao Mao and Orangusnake end up in the same hospital room. But even in full body casts, the sworn enemies continue the fight.
Plot
The episode starts with the heroes fighting the Sky Pirates until an Iguana monster appears. Badgerclops, Adorabat, Ramaraffe, Boss Hosstrich, and Ratarang call timesies upon realizing the emerging threat,
but Orangusnake and Mao Mao warn their respective teammates that there is no timesies in battling. Soon the two leaders continue to battle with each other until the iguana monster stomps on them severely.
Later, Mao Mao wakes up and he figures out that he has ended up in a hospital, while Orangusnake wakes up and rips his shirt. Dr. Cuddlestein tells them that their bones are broken. After she pulls Lucky out of Orangusnake's stomach, she warns them not to fight. However, the sworn enemies don't care about and hate her rules and continue feuding, and she bangs them with a crutch, which only fractures their already weakened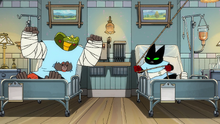 bones and skeletons. Meanwhile, Adorabat and Badgerclops walk to see Mao Mao, and come across the other Sky Pirates who are planning to visit their boss. Mao Mao and Orangusnake, who are still determined to deal with each other, try not to let know Dr. Cuddlestein about their rivalry. Later,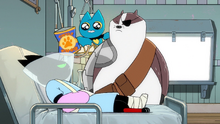 the hero duo and the rest of the Sky Pirates take the elevator to the next floor.
In the room, the cat and the orangutan-cobra fusion are still fighting. When the duo and the other Sky pirates got to the room, they are petrified to see Mao Mao inside Orangusnake. Badgerclops stops them and Dr. Cuddlestein slaps Orangusnake and catches Mao Mao with his robotic arm. After Dr. Cuddlestein comes back from comforting a crying Kevin who hurt his arm, she is furious and upset at them for breaking the rules, though Mao Mao and Orangusnake still refuse to listen to her. Badgerclops and Adorabat are equally disappointed for Mao Mao's bad behavior in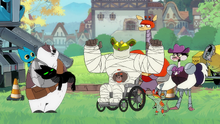 the hospital as well, while the other Sky Pirates give Orangusnake his sword. Mao Mao's frustration incrementally grows.
Eventually, Adorabat tells Mao Mao and Orangusnake to be good boys, but they can't take this anymore and fight while rolling away, after passing by a few Sweetypies, while Dr. Cuddlestein proudly brings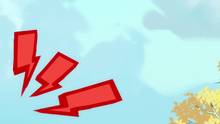 a baby, mistakenly by Ratarang. While Mao Mao and Orangusnake both proceed fighting, they eventually end up in a cement hole. They both sink in the cement, and as Tanner can't breathe, both try calling Slim Pigguns but he is too distracted by his headphones. Mao Mao apologizes upon understanding that if they keep fighting more, only more pain will be inflicted on both of them. So Mao Mao breaks out of his cast while being naked and floppy, tries to push the button, and so causes the cement mixer to stop. Mao Mao later wants to go back to the hospital since he is in a lot of pain, but Badgerclops tells him he's not allowed back there, so he tapes Mao Mao and says his bones are gonna heal all wrong, ending the episode.
Features
Characters
Trivia
Continuity
Cultural References
Gallery


Click here to view the gallery for Strange Bedfellows.
Videos
International premieres
References
Community content is available under
CC-BY-SA
unless otherwise noted.